What is Jet.com?
Acquired by Walmart, Jet.com is an e-commerce marketplace. Its targeted audiences are urban millenial classes, so in a way it complements the Walmart's rural customer base. In the year of its inception, it witnessed 248 times growth than Amazon which speaks volumes for its success. Famous among the deal and bargain hunter audiences, Jet.com allows sellers to CHOOSE THEIR TARGETED AUDIENCES.
---
Reasons why buyers choose Jet.com?
Jet.com made strides from its inception, from the funding it received to the huge dollars it put into marketing to its acquisition by Walmart.com for $3.3 billion – the largest in e-commerce industry. Everyhthing Jet.com has done till now is a success. And the people choose Jet due to its price saving virtues. Customers can save in following ways -->
1. BUILDING BIGGER BASKETS:
The dynamic real-time pricing engine comes quickly into play customers start shopping and once the product is added, the discounts are applied. And consumers start adding products to their cart, Jet.com starts searching vendors that are closest to you and can fulfil the entire order. In this way by building bigger baskets, the logistics fee is reduced as the seller can pack it in the single box.
2. WAIVING OFF RETURN FEE:
Another way Jet.com offers discounts is by offering In-House pick up. As the customers living nearby the stores can pick up the order, it further weeds out the embedded costs.
3. IN HOUSE PICK UP:
Dozens of study indicate that delivery time can make or break the game for any e-commerce company. Here Jet.com scores big. It allows free 2 day shipping on its products if the order value is more than $35, that too without any membership fee.
4. LOW FEE PAYMENT METHODS:
The Jet.com encourages its members to use low fee payment options for paying as some of them are taxed less than other. As debit card's tax is less than the credit card.
---
Why sell on Jet.com?
Each month more than 400,000 customers join the marketplace, indicating its success. Its propitiatory algorithm has clearly resonated with the buyer persona as people gain more benefits the more they shop. Some of the points that may appeal to 3P sellers are:
1. Average Cart Value:
It is a proven metrics which depicts how successful an e-commerc business is. The AOV for Jet.com is 1.5 whereas for Amazon is 1.1, clearly indicating that Customer purchase more within a single order at Jet.com.
---
2. Tremendous Growth:
Already mentioned Jet.com's growth has been a story of folklore. In its first year of operation it grew 248 times than Amazon, although the climb ahead is too steep. But surely its also an important metric about the popularity of a venture.
3. Level Playing Field:
Since in Jet.com, the customers only knows about from whom have they purchased after the checkout, it clearly gives new businesses an advantage and level playing field for sellers from all walks of life. All you need is a cool product and amazing pricing strategy.
4. Filter Orders:
Also, through Jet Rules engine, sellers can control the orders they want to recieve such as orders above certain cart values and or orders coming from certain geographic regions enabling sellers to be in command.
5. New Customers:
Furthermore, Jet.com also enables sellers to get buyers email in exchange for a one time discount. This enables online sellers to gain new customers for their store.
6. Less Competition
Suffice to say, Jet.com is still in its early days, there are less no of sellers and merchants on Jet.com enabling sellers to leverage the virtue of less competition in comparison to other marketplaces such as Amazon.com or eBay.com.
7. No Fees:
The Jet.com doesn't charge any sign-up fee, monthly fee or product listing fee and the only fee that it charged is 8-15% commission on the product purchase. The commission differs for different Product Type categories.
---
Popular Product Categories at Jet.com: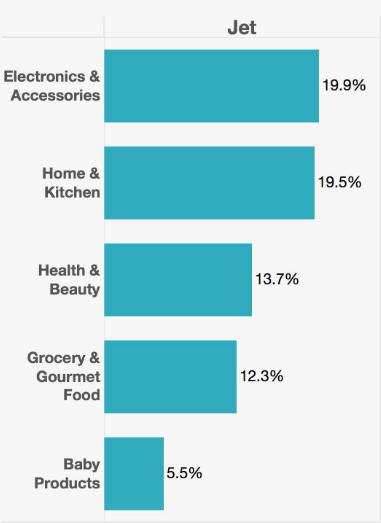 ---
How to sell on Jet.com?
To sell on Jet.com, sellers need to integrate their store with Jet.com through API-based connection, for the time being its the only mode of selling on Jet.com. It is also pertinent to know the pre-requisites to sell on Jet.com before, the steps to sell on Jet.com are explained
Pre-requisites to sell on Jet.com:
Now that you know, in case if you don't, the advantages associated with selling on Jet.com, it is important to know what are seller qualification so as to enable them to list the product at Jet.com.

1. Functional Bank account

2. Valid U.S. Business Tax ID Number (for sole proprietor - valid U.S. SSN number)

3. Sell Branded products (and leave Prohibited Products) Read more

4. Uphold Jet.com's 'Excellent Fulfillment & Delivery Performance' standard Read more
Steps to Sell on Jet.com
1. To list products on Jet.com, sellers must be first approved by Jet, Get the Jet partner account via submitting information on Jet Partner Panel Generally, it takes 2-3 weeks to get your request approved, and if you found any other information contact with partner@jet.com.
2. Once approved Jet provides API keys to connect sellers' store with Jet.com and after connecting the store with Jet.com product upload process starts.
3. Now comes the part of product upload. Remember, Jet.com curates the data from different sellers to show the best available combination for any product; which means for your items, the description can come from some other retailer and Title from some other.