Overview
Aliexpress Dropshipping app by CedCommerce provides facility to import product from Aliexpress.com and create on BigCommerce Store with App. The app creates a channel facilitating the synchronization of product inventory , product price and product updation from Aliexpress.com to Bigcommerce store.
Installation
For installing Aliexpress BigCommerce Dropshipping app, visit aliexpress-bigcommerce-integration & click GET option (The app will ask permission for approving the data access of their BigCommerce stores using API).
---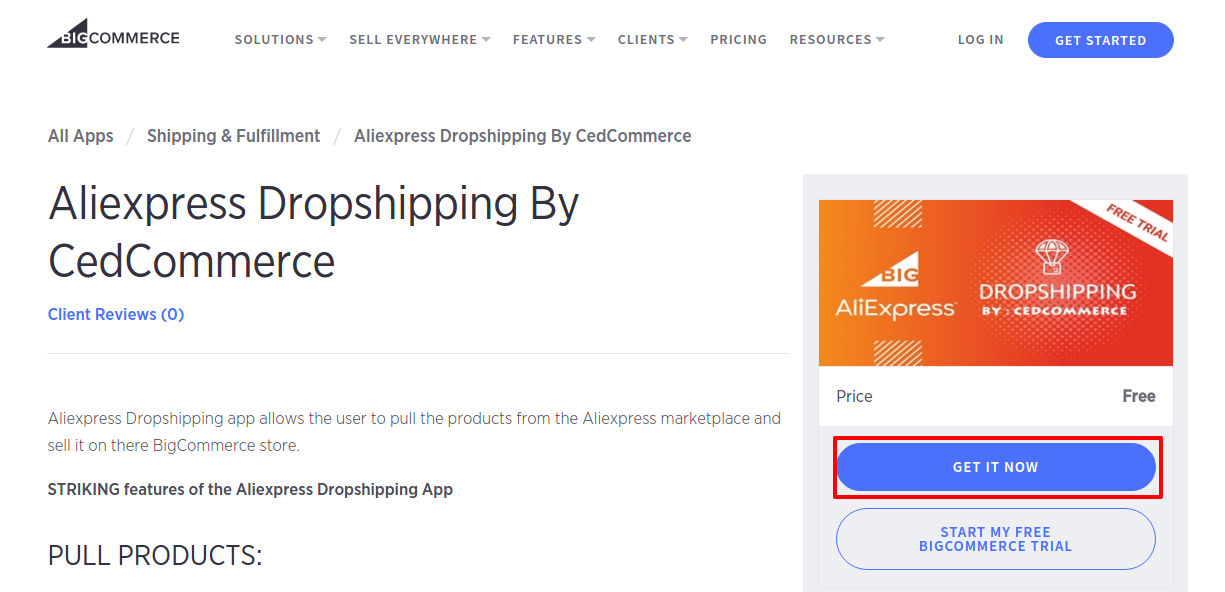 After that, click INSTALL APP option (If access of different API levels is granted, the process of seamless integration of your BigCommerce store with aliexpress app begins).
---
---
Registration
Fill the Registration form and to proceed further click on Next button. It redirects on Dashboard in App.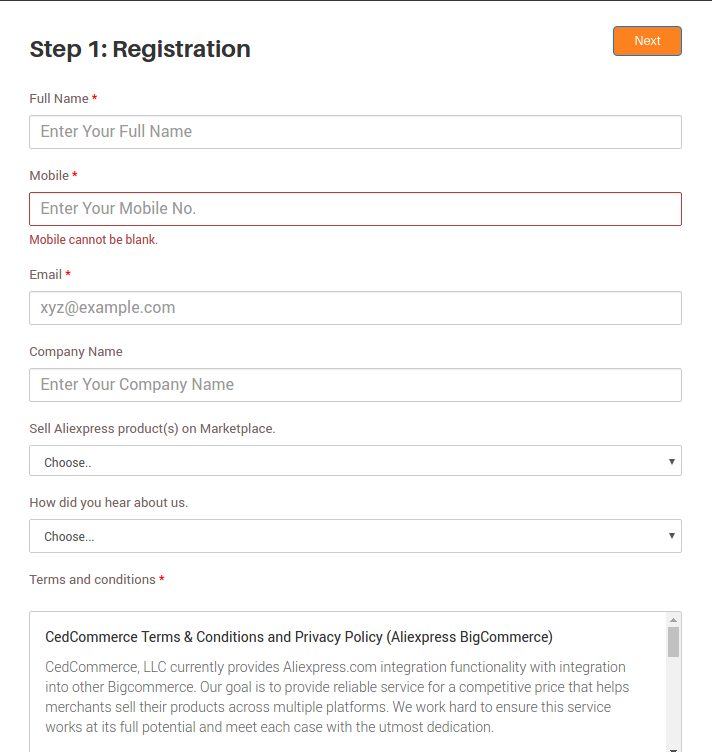 Product Settings
To Access Product Setting click on Setting icon in Nav Tabbar.
Auto Product Update
If you want the real-time synchronization of all products from aliexpress.com to app and on Bigcommerce store then Select the option YES otherwise NO.
Auto Delete Update
If you want auto deletion of product from App and from Bigcommerce store if does'nt exist on Aliexpress.com then Select the option YES otherwise NO.
Pricing Markup
If you want increase or decrease the price of all the products by same amount or percentage then you can do it from here.
You can do it by selecting YES
> then Select Increase Price or Decrease Price.
> then select whether you want to change the price in Fixed Amount or in Percentage.
> Set the fixed amount of percentage by how much you want to change the price.

Dashboard
To Access DashBoard click on Home in Nav Tabbar.
On the Dashboard of the app, you can see the Products, Orders and Revenue on the top menu bar. Below that you can have a look of your Store Revenue.
You can also view the status of your products and the order status. You will be albe to get the "Latest Updates" related to the app and the aliexpress.com and the "Inventory Update".

What is Aliexpress?
A subsidiary of Alibaba, Aliexpress.com, is an ecommerce website small and medium online sellers use to sell products of their interest to buyers residing mainly in US, Russia, Spain, Brazil and elsewhere. Almost all types of products, manufactured by Chinese businesses, are listed on the Aliexpress, which are hugely popular among the drop shipping and affiliate marketers.
Reasons to Choose Aliexpress as dropship supplier (Dropship Perspective):
Wide Product Range:
The entire concept of dropshipping revolves around finding the most suitable product niche and it becomes very crucial that all of the products decided by vendors are available at dropshipping marketplace. Here Aliexpress scores big. It has almost all types of products from all the product categories.
Free Database:
It is difficult to find great dropship suppliers as mostly the lists or database of the suppliers are paid. However, on aliexpress it is freely available. Merchants can choose any products from the supplier after reviewing the supplier profiles.
Zero Fee:
Aliexpress don't charge any fee - membership fee, restocking fee or delivery expenses - which makes it great for dropshippers as it helps them to maximize their profits.
Price Markup:
Sellers at Aliexpress don't make any demands regarding the prices of the products they supply for merchants whereas, elsewhere they can ask for the final price to be only 20-25% more than their price with suppliers.
Unlimited Sales Volume:
Also, Aliexpress suppliers don't place any bar on the minimum no of units to be sold for partnership to continue which otherwise is the case with most of the other dropship suppliers.
Less Legal Requirements:
Also, Dropshipping suppliers on Aliexpress don't have any demands concerning the legal representation of the dropshipping businesses whereas, elsewhere they may ask for the business to register at a particular place.
How to Dropship with Aliexpress?
To Dropship with Aliexpress, sellers need to first apply and get approval from Aliexpress, once their application gets approved, sellers receive App key & Tracking ID. Following is the complete process →
1. Register to http://portals.aliexpress.com/
2. Fill all required fields and sign up
3. After registration confirmed, login to http://portals.aliexpress.com/
4 . Go to Adcenter -> API Setting.
5. Click Apply Now button to request your App Key and Tracking ID
6. You will get message "Your application has been submitted successfully.."
7. In most cases, the affiliate program approval process normally takes a week or more (considering some holidays).
8. If you get approved, you will see your App Key in Adcenter -> API Setting. 9. Create your own Tracking ID in Settings -> Tracking ID
Once you complete this process, sellers can integrate their Bigcommerce store with Aliexpress and start their business.
Products
Search & Import Product by Filter
To Access Product Import Section click on Search Product in Nav Tabbar.
You can import product from Aliexpress.com on App by filter like keywords, categories('toys','electronics','Women Accessories','Men Accessories', etc.) , Aliexpress Product ID , Aliexpress Product URL and many more.
To import product from aliexpress use any filter or combinations of filter and click on "Search".
After click on Search you will see product(s) related to those filter.
Now simply click on "Import on App" button. In this way you can import product from aliexpress.com.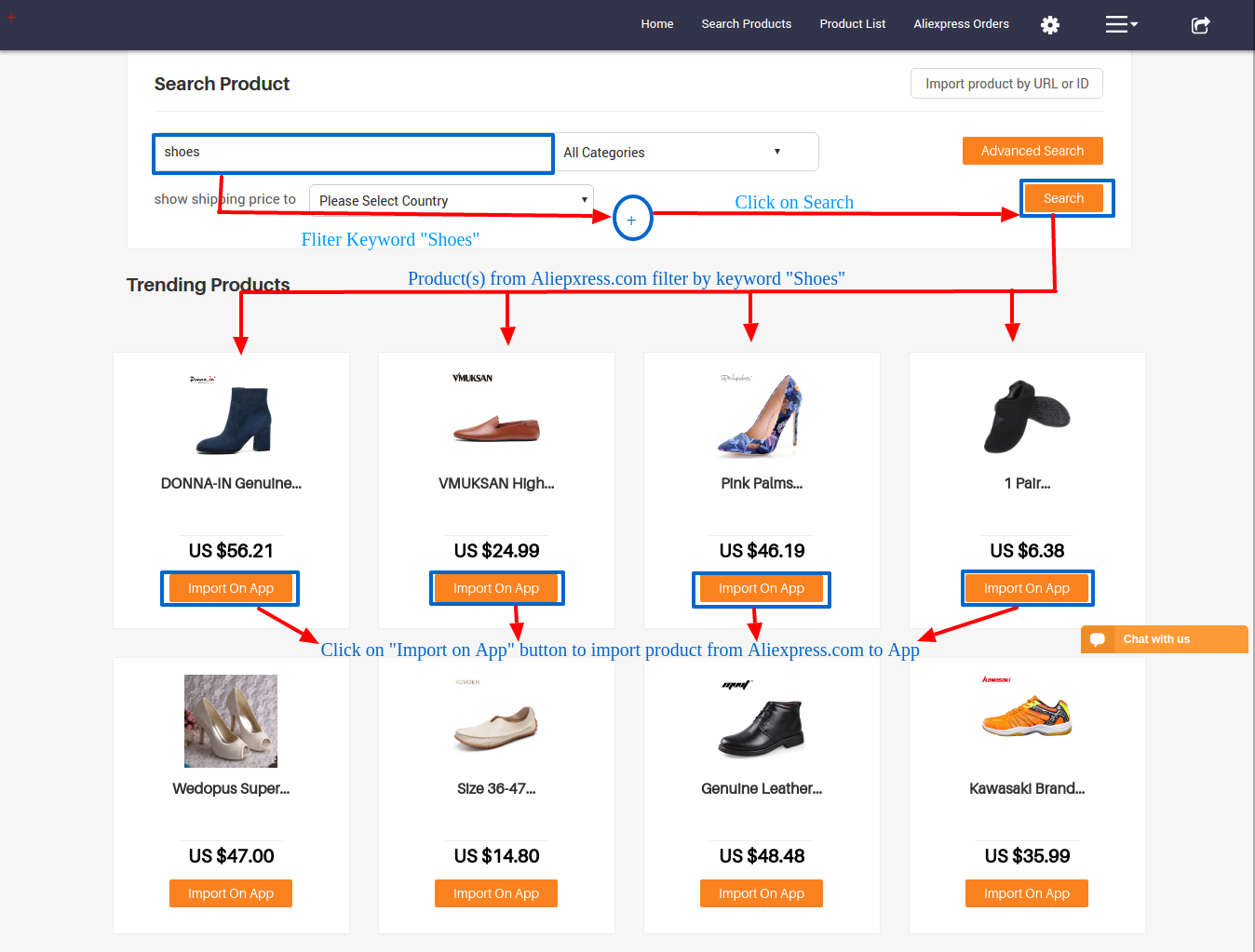 Import Hot Product from Aliexpress
To Access Product List Section click on either Product List or Search Product or Home in Nav Tabbar.
To import Hot or Trending product you only need to click on "Import on App" button in product slide.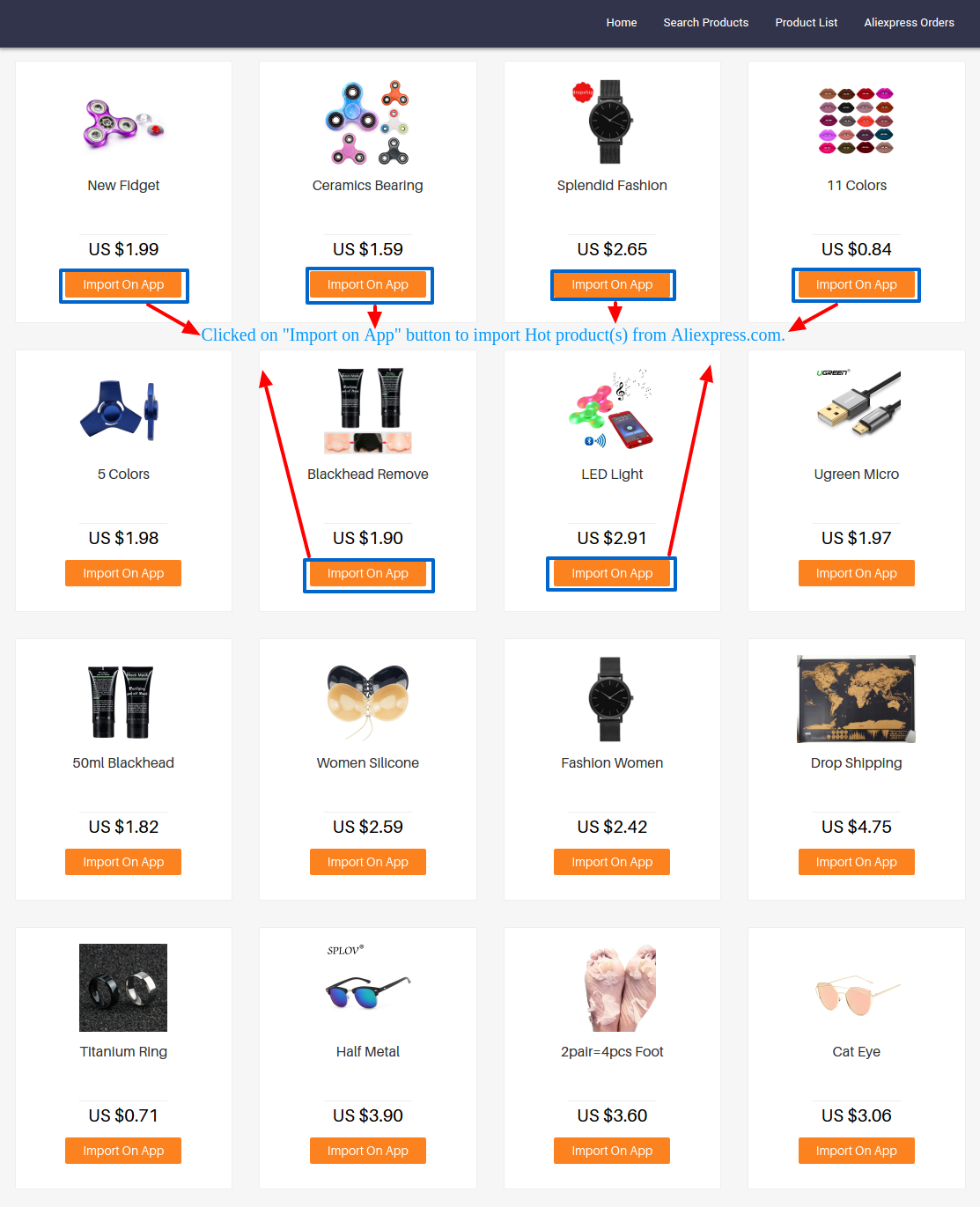 Import Product either by product URL or ID
If you have product URl for any item like
https://www.aliexpress.com/item/2017-New-Arrival-Spring-Women-Party-Bandage-Dress-Black-Red-Apricot-One-shoulder-Tassel-Celebrity-Runway/32790861883.html
and you want to import item by URL (Or by Product ID 32790861883 in case of above URL).There are steps below you need to follow.
Go to Search Product Section and Click on Import Product by URL or ID in top right corner.

Enter the Product URL or ID in any one field and click on "Import on App" button.

The product will be listed , and you can import on APP.
Product List
To Access Product List Section click on Product List in Nav Tabbar.
After all the products are properly imported and edited. Means products have their Quantity, Price information, products can be created on your Bigcommerce store at once.
Go to top menu, Click Product List.
All the products that are imported to the app are listed here (simple and variants both).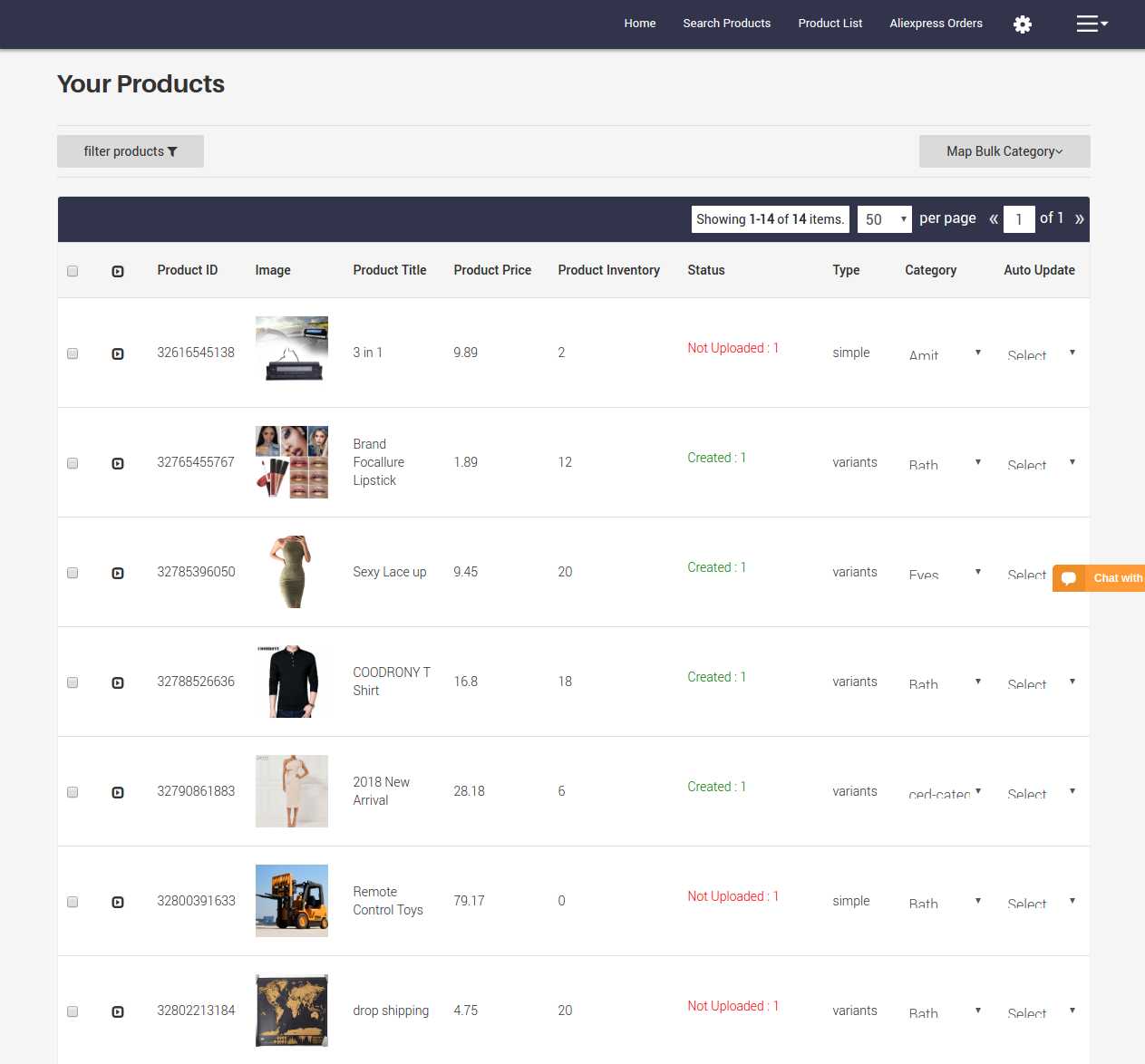 Edit Product
To Access Edit Product Section click on Product List in Nav Tabbar.
To Edit product (simple or variant) follow these steps.
In Tabbar click on Product List.There you will see all imported products from Aliexpress.
Now Click on button red marked in image below.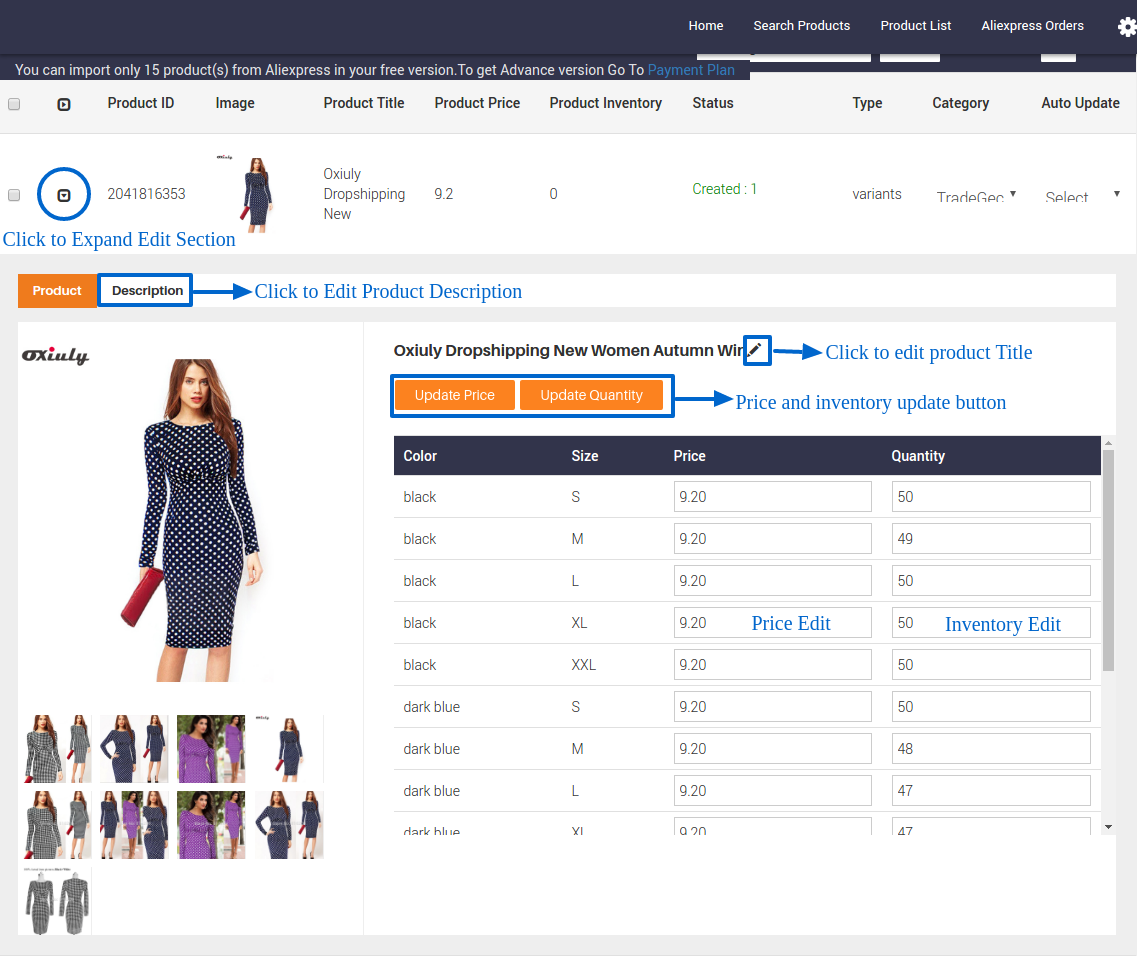 After click you will see below image.
From Here you can edit product price and product inventory.
If you made changes in price or inventory for any product.Click on "Update Chnages".
You can also make changes for product title and description.Just click on below "Red Marked" button.
Product category Mapping
Product level Category Mapping
To map a product with one or more BigCommerce category just click on Category button under Product List section.You will see list of your BigCommerce category.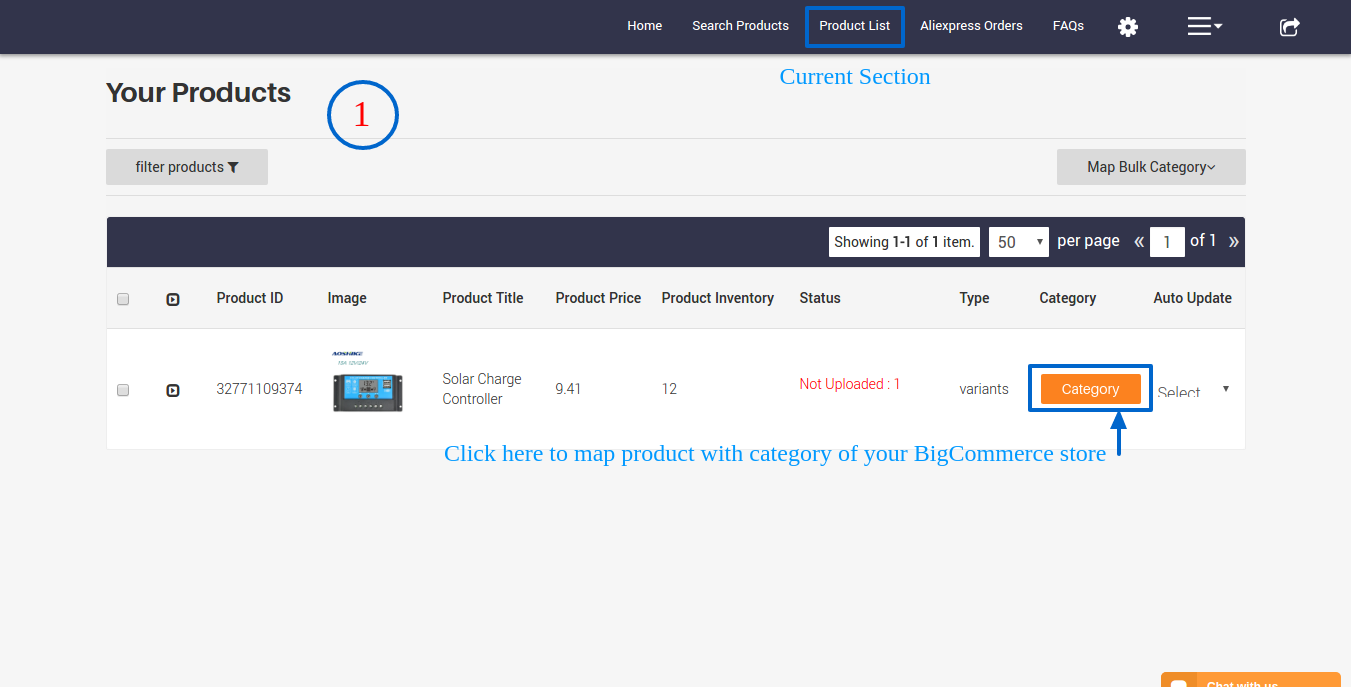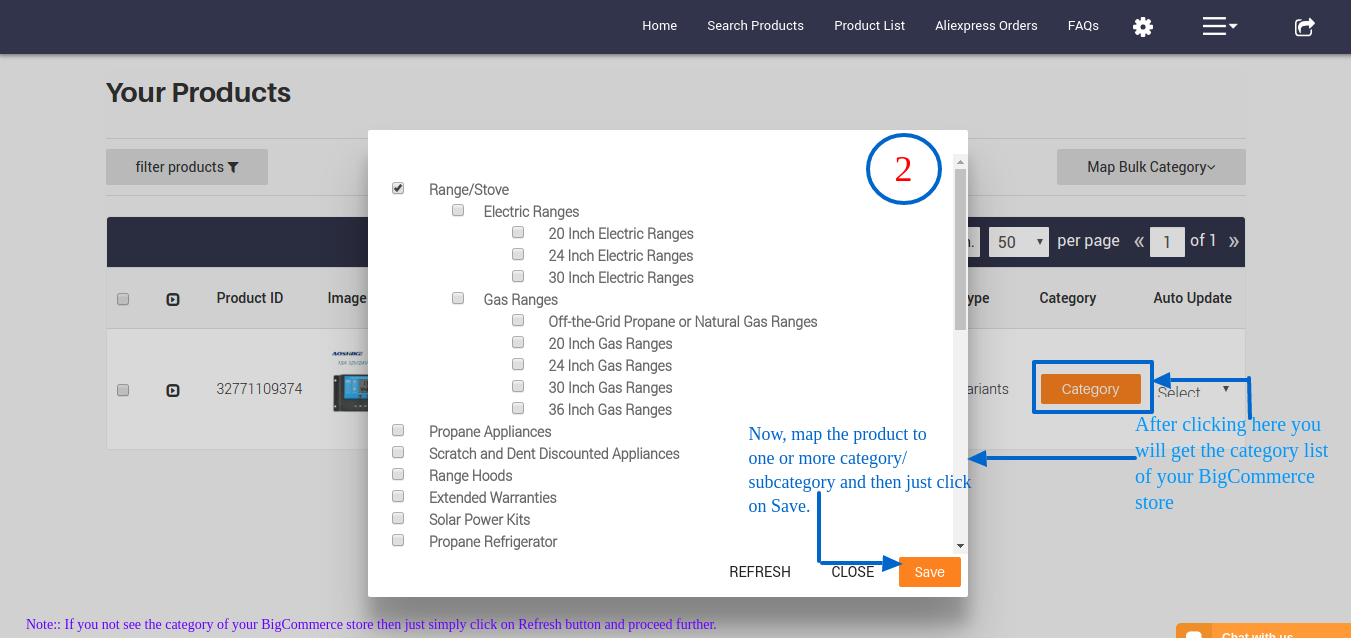 Now check the checkbox of different categories/subcategories by which you want to map your product.
Now Click on Save button.
Bulk Category Mapping
To map all product with one or more BigCommerce category in Bulk just click on Map Bulk category button under Product List section.You will see list of your BigCommerce Parent category with two option more and Save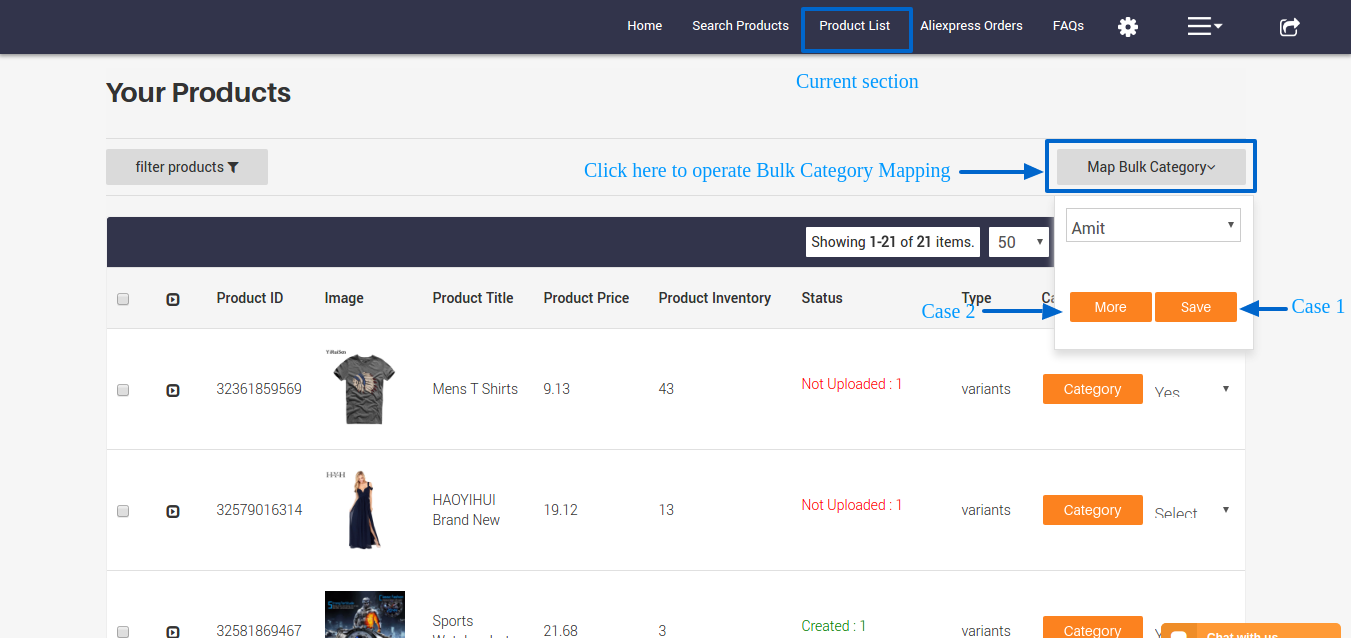 Here you will get two cases:
Case 1:To map all products with BigCommerce Parent category just follow steps below:

Select the Parent category from drop-down and just click on Save button.This will map all products with selected parent category

case2:Map all products with one or more BigCommerce category/Subcategory.

Select the Parent category from drop-down and click on more button.This will show you all subcategories for that selected category.
Now check the chekboxes by which you want to map products and click on Save.
Click on Save and then Click again on Save next to more button.
Create Products
To Access Create Product Section click on Product List in Nav Tabbar.
Select the product, choose Create and Click Submit.

You will get a message that the feed is successfully submitted.
---
Order Management
Under Orders, all the details of bigcommerce orders, whether it's Awaiting Fulfillment, Acknowledged, shipped, returned or refunded are stored.
If any new orders created on bigcommerce store, they will get instantly fetched in the app.

Aliexpress Order
Orders created on Bigcommerce can be viewed under aliexpress Order section in the app. To check order details, Go to top menu Orders

proceed order on Aliexpress.com
To fulfill order on Aliexpress.com click on Order Button. It will redirect to payemnt page of Aliexpress.com from there you can fulfill that order.